Yucca Valley/Desert Hot Springs/Joshua Tree/Landers
I have been lucky enough to have traveled around the world, but this little pocket of land certainly holds some of the most unusual things I have ever seen. From magnificent hikes to junk yard museums to the largest free standing boulder in the world. This lovely area has something for everyone.
1. Joshua Tree National Park
Joshua Tree National Park is one of our favorite places to spend time with our family. We have checked out 80% of the trails both inside and outside the Joshua Tree gates. I highly suggest that you get to the West Gate early in the morning. We have even gone in before the gate are technically open and you can head on in to the park. The longer in the day you wait to head in, the longer the line you will be sitting in. I have seen the line a mile long before when we were heading out of the park at noon. Trust me, you and your family do not want to sit in a line that long. If it is, see number 2 on this list. If you do get into the park here is a list of our favorite family friendly Joshua Tree trails, that you don't want to miss. Don't forget lots of water, snacks and sun screen. We also make our kids wear their bike helmets, since they like to boulder.
A. Cap Rock (right off the road, no hiking required) – This is a stunning stop to see a giant boulder tittering on top of another boulder.
B. Baker Dam (My kids favorite hike in JT) – This is usually the first hike of the day for us and one of the only hikes where you will actually get to see water. My kids love climbing all over the boulders on this trail. This trail is 1.3 miles and very family friendly.
C. Hidden Valley – Hidden Valley trail is a 1 mile enclosed loop trail that is very easy for all family members. This where the cowboys used to round up the cattle, because the circular rock formation kept the cattle in one location.
D Skull Rock/Jumbo Rock (right off the road, no hiking required) – Skull rock is one of those Insta-stops you will see right off the road. Keep trucking in the area and check out Jumbo Rock Trails which is only .8 of a mile loop.
E. White Tank/Arch Rock – Arch Rock is another one of those insta-worthy trails. The arch is stunning and so are all the boulders around it. This is a 1.2 mile out and back trail. But we just kept going because the boulders in this area are huge and super fun to to climb up and slide down.
F. Keys View (right off the road, no hiking required)  This is a stunning look out spot that is unreal during sunset and sunrise. I highly suggest packing a picnic and heading to this spot for sunset. Get there 30 min before sunset to grab a spot. Bring some chairs and enjoy the view. I promise you will not be the only ones there and this is definitely a bucket list item.
E. Lost Palms Oasis (East Gate) – If you decide to travel the entire length of the park, which I think everyone should do at least 1 time. There is a lovely trail near the East gate entrance. Note. there is never a line or a ticket booth at this entrance. Lost Palms Oasis is a 7.2 out and back trail. But you end up in at a cool old abandoned mine shaft. It is complete secure and closed up, but still a neat thing to check out. Make sure to bring lots of water on the longer hikes for your crew.
2. Joshua Tree Hikes outside the Park Gates(Free)
There are two amazing hiking and camping spots out side of Joshua Tree National Park. Why would you hike outside the park you ask? Well first off it is free and secondly, you don't have to wait in what can be a very long line to get into Joshua Tree National Park. If we show up to the West Gate and there is a long line, we turn around and go hike around one of these two other great spots. Black Rock Campground  is one of my favorite spots and very close to the West Gate. The Panorama Loop is one of our family favorite hikes. The first half of the hike is definitely heading up hill, but if my 8 year old can do it, anyone can do it. Half way through the hike you will be atop a lovely lookout spot. Stop here and take it all in, drink some water and take some beautiful photos of the valley. The remainder of the hike will take you back down the mountain towards the dirt parking lot. The other great location is Indian Cove, but this is a good 20 minutes from the West Gate. This is a lovely location where you can hike or camp. My kids love this area, especially sliding down the huge Joshua Tree boulders. There are plenty of places to park here and just start climbing around, there are also marked trails you can check out.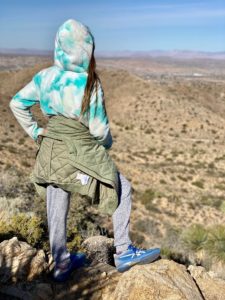 3. PioneerTown/Pappy and Harriet's Restaurant
Pioneertown was built in 1946 in the middle of the desert, with the intent to film old western movies. The town is absolutely adorable and a must see. You could make it a side trip when visiting Palm Springs, or just come out to Pioneertown as a day trip from Orange County, We stop here every time we come out to Joshua Tree and find something new each visit. It is also Pioneertown's 75th Anniversary this year. They had fun things planned during the weekends of 2021, but that is all pending how COVID plays out in California. Just make sure you have your mask on when entering Pioneertown. Main Street in Downtown Pioneertown is open and free to the public 365 days a year. You'll find that the majority of the action in town happens during the weekends.
Pappy & Harriet's is my favorite  restaurant in Pioneertown. There food is absolutely delicious and I always order their TexMex bowl. I understand their BBQ is also out of this world. Currently they are only offering outdoor dining and takeout. It is also the only place to use the bathroom in Pioneertown.
53688 Pioneertown Road · Pioneertown, CA 92268
4. Giant Rock
Only 2 hours away from Orange County and you too can take in this magnificent giant rock in Landers, California. Check out this 7 story tall boulder., supposedly the tallest free standing boulder in the world. It will require a little off-roading in the dirt, but nothing too major. You will be able to park very close to it and walk around the entire boulder. Giant Rock was once a Native American Spiritual retreat site, the location of UFO conventions in the 40's and a German spy dug a hideout underneath the rock in the 30's. Needless to say this rock certainly has a colorful history. When you are out there, just type into the map on your phone, Giant Rock, Landers and it will take you right to it!
5. Noah Purifoy Outdoor Museum
Noah Purifoy Outdoor Sculpture Museum, is literally in the middle of nowhere, but it is technically in Yucca Valley, near Joshua Tree. All of the artwork on the 10 acre property was created by Noah Purifoy. He spend the last 15 years of his life in the late nineties, early 2000's building and creating all of these large-scale sculptures on the desert floor. All of the creations  were made out of junked material. The outdoor museum is open from sun up to sun down everyday of the year. You can even take your dog with you, as long as you keep them on a leash and pick up after them. There is plenty of space to walk around and stay socially distanced from other visitors as well.
63030 Blair Lane, Joshua Tree, California 92252
6. Desert Christ Park
is a sculpture garden that occupies 3.5 acres of land over looking Yucca Valley. The plot of land was originally owned by Reverend Eddie Garver, a preacher who lived in the area with his family and established the Yucca Valley Community Church in the late 1940s. He was introduced to Frank Antone Martin, a sculptor from Los Angeles, CA and they found that they shared a similar vision. WWII had recently come to an end and Garver wanted to build a Christian-themed park that would serve as a statement of peace. Here you'll find more than forty snow-white sculptures and images portraying scenes of Christ's life and teachings.
56200 Sunnyslope Drive, Yucca Valley, CA 92284
7. Glass Out house Art Gallery
On the property surrounding the gallery, there are trails marked by glass bottles leading through all kinds of "art" displays. You'll also find the working, mirrored outhouse that the gallery is named after. Make sure to bring a camera as there are lots of fun photo ops. The gallery is free to visit and open 1-5 pm every day, with the exception of Monday.
77575 Twentynine Palms Highway, Twentynine Palms, CA 92277
8. Cabot's Pueblo Museum
Cabot's Pueblo Museum is an American historic house museum located in Desert Hot Springs, California, and built by Cabot Yerxa, an early pioneer of the Colorado Desert. A large, Hopi-style pueblo, built in the Pueblo Revival Style, it contains artworks, artifacts of American Indian and Alaska Native cultures, and memorabilia of early desert homesteader life. The museum may also be referred to as Cabot's Old Indian Pueblo Museum, Cabot's Trading Post or Yerxa's Discovery. Only open Friday and Saturday from 10amto 3 pm for a nominal fee of $5.
67616 E. Desert View Avenue, Desert Hot Springs, CA 92240