The best part about  traveling off the beaten path, is the reward of the unknown. Our next adventure took us to Noah Purifoy Outdoor Sculpture Museum, which was literally in the middle of nowhere. Well it might feel like the middle of nowhere, but it was technically in Yucca Valley, near Joshua Tree. So after you go hiking in Joshua Tree swing by this outdoor museum to really see some unique pieces of art. Or head over to this place, after you check out Pioneertown.
All of the artwork on the 10 acre property was created by Noah Purifoy. He spend the last 15 years of his life in the late nineties, early 2000's building and creating all of these large-scale sculptures on the desert floor. All of the creations  were made out of junked material. You will notice old medal cafeteria trays on one serpent like sculpture. My kids couldn't believe the sheer size of old television sets. There was even a room dedicated to old computers, fax machines and rotary telephones. I loved showing my children what first generation computers looked like. Their minds were absolutely blown to say the least.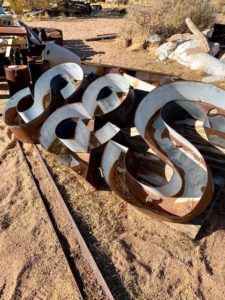 The amazing thing about this unusual place is that it is free to walk around and look at all the different sculptures. Upon entry there is a place to leave a donation and take a map to better understand the pieces  as you walk around the grounds. The outdoor museum is open from sun up to sun down everyday of the year. You can even take your dog with you, as long as you keep them on a leash and pick up after them. There is plenty of space to walk around and stay socially distanced from other visitors as well.
Directions from Orange County:
• Take the I-10 East to Exit 62/Hwy 62
• Continue on Hwy 62 through Morongo Valley, Yucca Valley and into the town of Joshua Tree.
• Pass the intersection of Old Woman Springs Road (Hwy 247) in Yucca Valley and in 2.6 miles, turn left onto Yucca Mesa Street
• Continue on Yucca Mesa Street about 4 miles and turn right onto Aberdeen.
• Travel about 4-1/2 miles, past Border Street to Center Street and turn left
• Take the first right onto Blair Lane (graded dirt road)
• You will see the sculpture site on your left, park in the shade across the road.