Palm Desert/Palm Springs/Coachella Valley
The Desert is one of my favorite places to spend time with my family, friends or just as a couples getaway. I have been coming out here since I was a child and I have so many fond memories of this area. There are so many family friendly hikes, tours, events and of course pool time that everyone will find something to make them smile. I know it gets hot in the summer, but even then you can have a good time too. Check out the list below of all the different ways you too can enjoy Palm Springs, Palm Desert and the Coachella Valley. Have fun!
1. Palm Springs Aerial Tramway
The Palm Springs Aerial Tramway—the world's largest rotating tram car—travels over two-and-one-half miles along the breathtaking cliffs of Chino Canyon, transporting riders to the pristine wilderness of the Mt. San Jacinto State Park. During your approximately ten-minute journey, tram cars rotate slowly, offering picturesque and spectacular vistas of the valley floor below. Once you reach the Mountain Station—elevation 8,516 feet—enjoy two restaurants, observation decks, natural history museum, two documentary theaters, gift shop and over 50 miles of hiking trails. This really is one of my favorite memories as a child going up here and seeing the snow in the middle of the summer. I suggest stopping here on the way into Palm Springs/Palm Desert or on the way home to OC. It is right before you enter Palms Springs. It is $26.95 for adults and $16.95 for children to ride the tram.
1 Tramway Rd, Palm Springs, CA 92262
2. Tahquitz Canyon Waterfall
Tahquitz Canyon is one of the most beautiful and culturally sensitive areas of the Agua Caliente Band of Cahuilla Indians Reservation. Tahquitz Canyon is home to a spectacular seasonal 60-foot waterfall, rock art, ancient irrigation systems, native wildlife, and plants. Located at the entrance to the canyon, the Tahquitz Canyon Visitor Center offers educational and cultural exhibits. The Center offers a display of artifacts, an observation deck, and a theater room for viewing The Legend of Tahquitz Canyon. There is a $12.50 adult ticket fee and $6.00 ticket fee for quests to enter. I highly suggest getting there first thing in the morning when they open. Once they reach capacity they will turn visitors away. It happened to us the first time we tried to visit, so don't make the same mistake as us.
500 W Mesquite Ave Palm Springs
3. The Living Desert
The Living Desert Zoo and Gardens is a nonprofit, ensuring the highest standards of all aspects of animal care, education, conservation, public service, and operations. You will see all sorts of animals from big horn sheep to zebras, to Meerkats and a Jaguar. But the highlight for sure is the opportunity to feed their giraffe. They also have a endangered species carousel, interactive kid's stations and a huge outdoor model train display.  This is must stop if you have never been before.
Open Daily
October 1 – May 31
8am – 5pm
June 1 – September 30
7am – 1:30pm
47900 Portola Ave, Palm Desert, CA 92260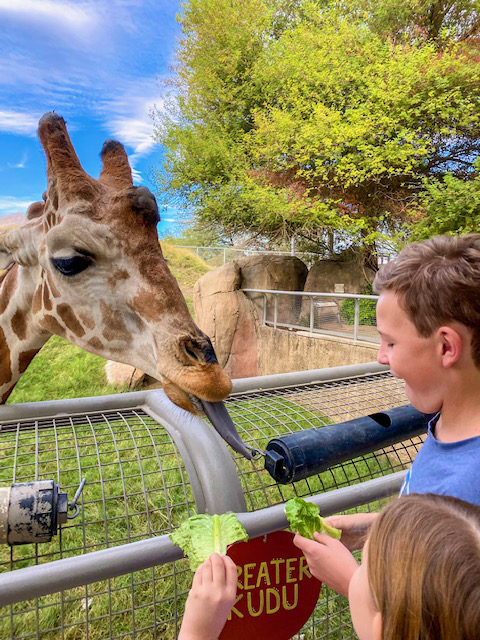 4. Children's Discovery Museum(currently closed)
One of my favorite places to take my kids before the pandemic hit. They had a VW bug in the middle of the museum that they would let kids paint all over. It was so much fun and my kids looked forward to it every time we were in the area. Unfortunately due the pandemic they are currently closed indefinitely, until the board can financially reopen the museum.
71701 Gerald Ford Dr, Rancho Mirage, CA
5. Coachella Polo Fields/Coachella Festival Spectra rainbow building
You can drive into the polo field grounds any day of the week and walk around. There are even some restaurants on the property. Be sure to check out the festivals iconic Spectra Rainbow building. It is 7 stories tall with a viewing deck at the top. Unfortunately, it is not open for visitors outside of the Coachella Festival, but you can certainly snap some great photos of the building from every angle.
81-800 Ave. 51,  Indio, CA 92201
6. Salton Sea
The lake is 15 by 35 miles and only 43 feet deep. It was created in the early 1900's by the construction of irrigation canals to divert water from the Colorado River into the Salton Sink, a dry lake bed. Unfortunately, the lake is rather toxic today due to the surrounding agricultural runoff. The fish no longer thrive due to rising salt levels and pollutants in the water. The sand around the water is made up of dead fish bones, dirt and barnacles. Most days the lake has a lingering smell of sulfur. As you drive around the lake you will see forgotten towns with glimmers of a bustling past time of a tourism industry. This is actually the largest lake in the state of California.  Type in Salton Sea on your phone and you can drive around the entire lake, stopping in little towns where you see something interesting.
7. Bombay Beach
Bombay Beach on the East side of the lake has many fascinating art installations scattered about. They make you think of a forgotten land or a sunken city that is still being kept up by someone out there. There is a creepy swing set out in the water, a church of sorts and an iron cube to name a few. In the 1950's this was a popular beachgoing destination for celebrities. Clearly not anymore, but if you read up on the current owners of the different properties you will find some famous names behind the local art revival. When you arrive you will want to park where the beach and town meet and proceed by foot out to the art installations. Bring your camera for this stop! As you drive out of the town, drive through the streets and you will see more interesting things like the Bombay Drive In. Abandoned cars all facing a movie like screen made from a cargo trailer. I can't express enough how interesting this stop is and well worth the visit. I don't have an actual address, but if you type in Bombay Beach, Salton Sea on your phone, you will find your way there. I promise!
8. Salvation Mountain
A man-made mountain completely off the grid, covered in adobe, straw and lots of paint. Salvation Mountain was created by Leonard Knight to spread his message that "God is Love". Leonard is unfortunately gone, but his message lives on in the 1,000's of visitors that come to see his work of art each year. Salvation Mountain is about an hour east of Palm Desert. To get there from OC/Palm Springs, take Interstate 10 to the 86S (just east of Indio.) Travel south (11 miles) to 66th Avenue (Hwy 195.) There is a  big gas station and truck stop on the left. If you miss this turn, you'll end up on the wrong side of the Salton Sea. Turn left (east) and go about a ½ mile to Highway 111. Turn right (south) and go about 42 miles to Niland, California. Turn left (east) on Main Street (which eventually turns into Beal Road) and travel for a little over 3 miles. Look to the East. You absolutely cannot miss it. Open everyday of the year.
9. Indian Canyon Trails(Seven Sisters waterfall hike)
Looking for a fun hiking adventure that ends with a dip under a waterfall? This is the trail for you! Murray Canyon is a 4.7 mile moderate out and back hike. Now this is not a flat hike by any means, you will be climbing over boulders all the way there and back. But the waterfall at the end is definitely worth it!. My kids and I all wore swim suites under our clothes so that we  could all take a dip in the waterfall upon our arrival. My kids got right in and sat under the bounding waterfall with glee. They loved it. Make sure to bring lots of water, the majority of the hike is actually shaded, but you still want to make sure you all are lathered in sunscreen. There is a cost to get into the park, it is $9 for adults and $5 dollars for children.
38520 S. Palm Canyon Dr. Palm Springs
10. ATV/UTV Rentals
Ready to get out in the desert and turn it loose? Looking for more of an adrenaline rush? Kids and adults alike will have fun speeding around in the desert on these ATVs and UTVs. Open 7 days a week during the season from 8am to 5pm.
2104 Frontage Road, Thermal, CA 92274
11. Wind Turbine Tours
On this self-guided tour curated by Randy Buckmaster(The Tour Manager), he guides you along with an audio program and marked destinations throughout the first commercial wind farm in the United States. The tour starts with a display yard of non-operating wind turbines of successes and failures, along with a stop to a real generating wind turbine where you can get up close and take pictures. The tour ends with a stop at the Indigo Power Plant and retired wind farm. The tour takes approximately one hour depending on your pace. It costs $49 for a car with five people. Additional cost for additional adults, while additional kids under 12 are free. Tours run from 9am to 3:30pm Wednesday through Sunday and 9am to noon Monday and Tuesday.
62950 20th Avenue
Palm Springs, CA 92258
12. Cabazon Dinosaurs
This was a major highlight as a kid, stopping to see the dinosaurs along the side of the road on our way out to the desert. We always had a game, as to who could spot them first from the car. Now the dinosaurs get an adorable paint job for each major season of the year. Now you can walk around and see all sots of dinosaurs, along with the two big iconic ones that you can see from the road. You can certainly stop and snap a couple photos for free. If you have more time you can pay to go inside one of the large dinosaurs and walk around to see all the little ones too. It is $13 for adults and $11 for kids. Ticket sales are available Monday through Thursday from 9am to 6:30pm and Friday through Saturday from 9am to 8pm.
50770 Seminole Drive, Cabazon, CA 92230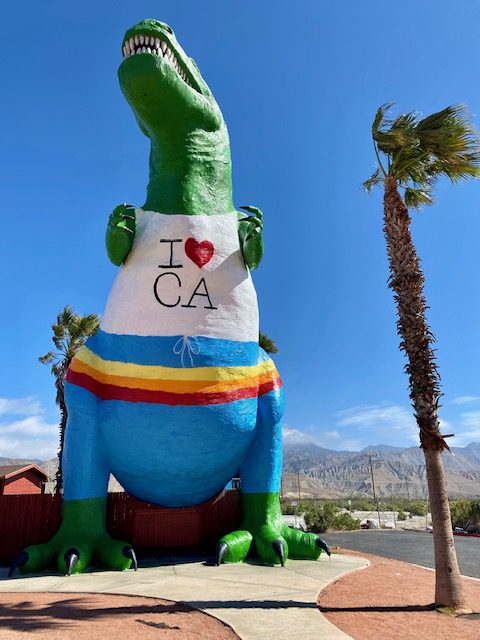 13. Sunnylands
Sunnylands, the former Annenberg Estate, located in Rancho Mirage, California, is a 200-acre estate currently run by The Annenberg Foundation Trust at Sunnylands, a not-for-profit organization. The stunning gardens and center can be visited for free from 8:30 am to 4:00 pm, Wednesday through Sunday. You can take a self-guided audio walk through Sunnylands gardens. Stroll at your own pace and learn about the design of the Sunnylands gardens, inspired by an Impressionist painting. Guided tours of the estate and grounds are also available for $25 per person or $125 per group of 6.
37977 Bob Hope Dr.
Rancho Mirage, CA 92270
14. El Paseo
If shopping is more your thing, than you will love checking out El Paseo. Also known as the Rodeo of the Desert. El Paseo is located in Palm Desert and features over 300 world-class shops. There are plenty of restaurants as well and can be enjoyed on foot. Start on one end of El Paseo and then come back down on the other side of the street. That way you won't miss anything. Happy shopping!
73-910 El Paseo
Palm Desert, California 92260
15. La Quinta Hike from the Cove to Lake Chauilla
This is a fairly easy day hike if you are in the La Quinta area, but make sure to bring plenty of water. You may see some desert bighorn sheep, horses, snakes, etc. and you can bring your dog on leash, but the real beauty is the lake and everything getting to there. From Hwy. 111 take Washington (South) 3 miles to Avenue 52 (Turn Right). Take Avenue 52 a 1/2 mile to Avenida Bermudas (Turn Left). Follow Avenida Bermudas for 2 miles (becomes Calle Tecate). Cove Trailhead & Parking Lot located on the left across from Avenida Ramirez.
*there are 2 other hikes off of this trail system
BONUS Spring DesertX Art Exhibit
For those of you out in the Desert between Mid-March and Mid-May, I highly suggest that you go check out the amazing art exhibits around the entire valley individually crafted by different artists. All exhibits are free to visit. There are two exhibits that require reservations via their website, merely due to the amount of visitors. Take a whole day and visit them all or just stop and see a few. Weekends are very busy, so be sure to plan ahead. You will also find docents at each exhibit available to chat with, to understand more about each exhibit.  If you happen to be out in the desert this time of year, don't miss it!
This event is held twice a year at the La Quinta City Hall. It is a lovely events with at least a hundred vendors from all over the US. They also have food trucks, champagne tent and margarita island. Definitely worth checking out if you are in the area. Click the link for dates and times.