The Sawdust Festival isn't just for grownups, its for kids too. Ever since we left, my kids keep asking me when will be going back. I am so thrilled that they enjoyed their first experience at the Sawdust festival that much. We went on a Friday afternoon and it was just perfect. Not too many people, not too over whelming and no lines at all.
Our first stop was the pottery wheel exhibit. We only waited about 10 min and then each of my kids got to design their own bowls. They thought it was one of the coolest things that they have ever done. The ladies running the pottery wheels were so kind and patient with my kids. They really helped them seek their own individual creative designs. We paid a little extra to have them glazed and shipped to our house. We all can't wait to see the final product.
Next we hit up the glass blowing exhibit. The kids were mesmerized by the red hot glass that magically turned into beautiful glass designs.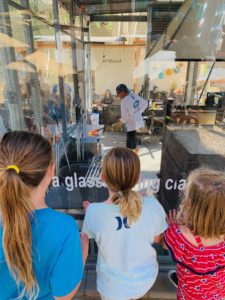 Then there was Missy, aka the Fairy Princess. Her magical booth is filled with fairies, sparkly fairy wands, beautiful crowns and fair dust of course. The girls got fairy dust sprinkled in their hair and got to make a magical wish. Talk about a highlight! Don't think my girls were going to let us leave without a fairy wand either!!!
John Lucero in booth 420 was so sweet to set my girls up with 3-D glasses, so that they could see his masterpieces come to life. He even had a 3-D unicorn for them to gaze at.
The girls loved looking at Lupe Blanton's ceramic mushrooms & flowers. The vibrant colors and massive amount of mushrooms, make it feel like you have been transported to another wonderland.
Last but certainly not least was the Children's Art Spot. This is where different art mediums/crafts take place through-out the day. All of these are free of charge for the little ones. We unfortunately arrived when they were taking their evening break, but I can promise you we will be back to check out this amazing kids art area.
The Sawdust Festival is a great summer stop for you and your children. Honestly no matter the age, they will find something that will WOW them. So, the next free day you have, head over and get creative with the kids.