Who doesn't love a good birthday party? I know how much my kids love their birthday parties and how much they love sharing that special day with their friends. Now we have a comprehensive list of all of our favorite Birthday vendors in South Orange County. If you are looking for a balloon garland, we have you covered! If you need a Nerf party vendor, we have you covered. Or perhaps a waffle cart is more your thing, we even have you covered there. Please reach out to these amazing Birthday Party vendors for your next celebration, they can't wait to help you make your child's party magical in every way! South OC Moms, Birthday Guide
Queen of Arts Paint Parties
Contact Information
---
At Queen of Arts, we believe in the power of art to create memories that last a lifetime. Our award-winning kids birthday parties create a space where they can explore their inner artist and have fun with friends. We offer parties at your home or location of choice, with an emphasis on elevated creative events that are perfect for any special occasion.
Contact Information
---
The Petite Bakeshop specializes in one of a kind cookies, custom treats, and royal icing sugar cookies. Everything we make is handcrafted with love and attention to detail. Whether you're looking to add a touch of sweetness to your next event or simply craving a treat, we turn your ideas into delicious works of art and take pride in creating memorable moments for all of life's special events.
Contact Information
---
Delicious, 𝖧𝗂𝗀𝗁 𝖰𝗎𝖺𝗅𝗂𝗍𝗒 𝖯𝖺𝗌𝗍𝗋𝗂𝖾𝗌 𝗆𝖺𝖽𝖾 𝗐𝗂𝗍𝗁 𝖦𝗋𝖺𝗌𝗌-𝖥𝖾𝖽 𝖡𝗎𝗍𝗍𝖾𝗋 & 𝖠𝗏𝗈𝖼𝖺𝖽𝗈 𝖮𝗂𝗅. Seasonal pastry boxes and delicious gluten-free options. We only use organic ingredients and dye-free sprinkles.
Contact Information
---
We're dedicated to promoting a healthy way of life in our South OC community.
We do catering for your parties, office events, and wedding day bridal suites. And, if you plan to spend a day at the beach, let us prepare a healthy picnic for you! If you have kids under 12 they get a free kid's smoothie every Monday with a purchase of $7.25 or more!
Also on your Birthday, enjoy a Free
16oz adult or one 10oz kids regular smoothie with the purchase of $8.25 or more. ***Child must be present and also under the age of 12 years old. Proof of DOB requested at checkout.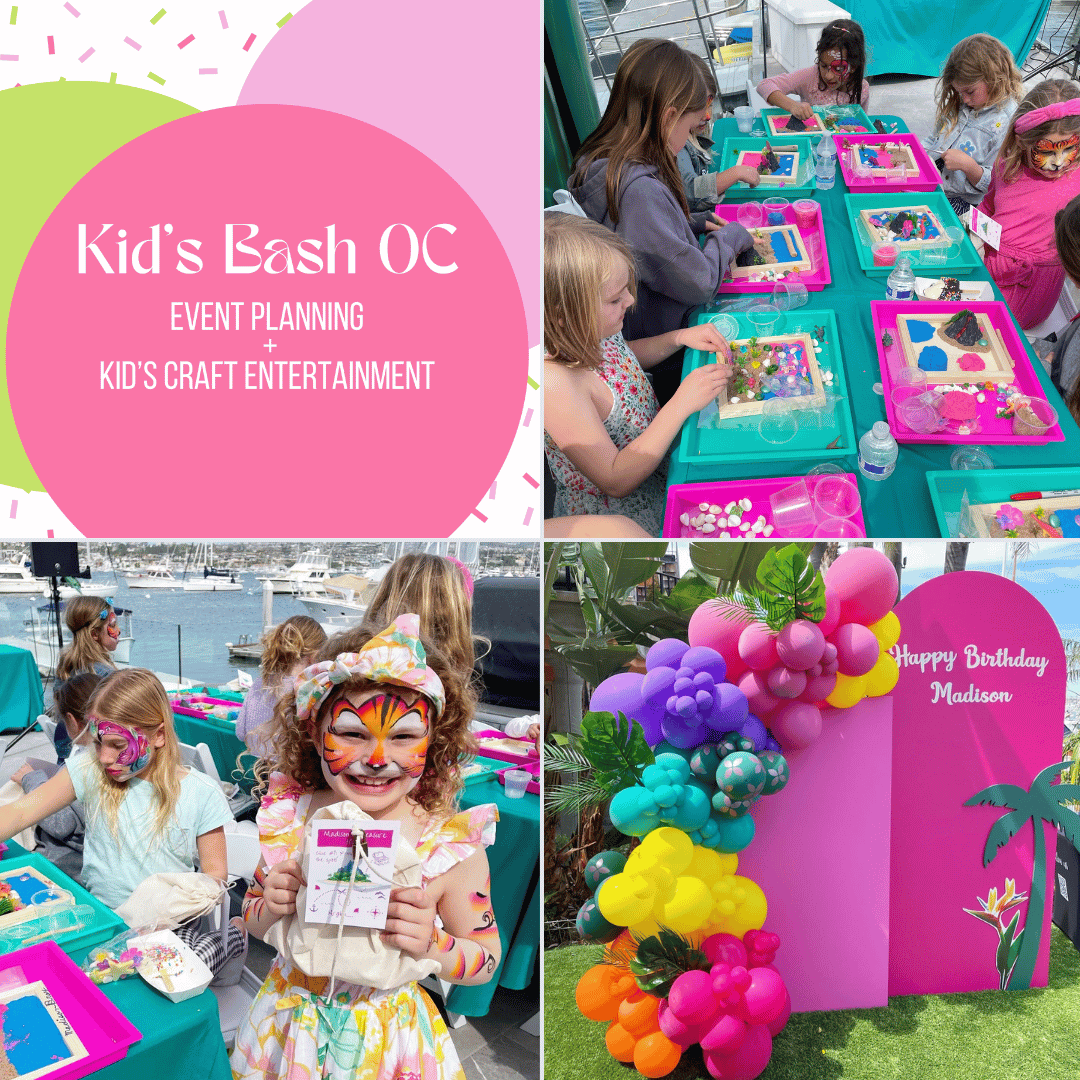 Contact Information
---
Kid's Bash OC is a full-service event planning & kid's entertainment company helping moms accomplish gorgeous events without the hassle.
We take care of everything so that you can actually enjoy your event. Leave the heavy lifting to us. We coordinate all of the best vendors to bring your child's vision to life. Consider us a really well organized one-stop-shop when it comes to planning your child's party. It's as simple as scheduling a consultation. We will get the ball rolling on all of your big party requests immediately.
Contact Information
---
Each Organically Yours cake & cupcake is 100% gluten free, dairy free, soy free, dye free, no refined sugars, and no inflammatory seed oils. All ingredients are also 100% Non-GMO/Organic. Eating a cake shouldn't have to be inflammatory or toxic to our beautiful systems, the ingredients we use are pure and natural the way God designed.
We offer allergen friendly cakes and can customize each allergen as requested. Eating healthy, clean, Organic/Non-GMO ingredients doesn't have to taste bad or stop at the one year birthday party. Our ingredients are the most premium ingredients that can be found. Beautifully modern, minimal, and delicious cakes for every occasion—smash/small cakes, birthday parties, baby/bridal showers and more.
Contact Information
---
BubblePOP has 4,500 square feet of event space solely devoted to all things bubbles, making every experience inside BubblePOP magical! BubblePOP is a unique indoor interactive bubble experience for everyone! Experience our patented interactive bubble stations including the bubble power, creating a bubble tower, getting inside a bubble, mad bubble party, and dry ice bubbles. You have never experienced bubbles like this before! Book your event today or just come in for open play
Enjoy your event in our Party Space! Our store will be open to the public.  The party space is sectioned off on our main floor – right in the heart of the action! From birthday parties, fundraising events in the store to conventions and special events off-site, BubblePOP can help make your next event both fun and unique.
Contact Information
---
Create, decorate, celebrate!
Host a cupcake, cookie, or cake decorating birthday party, where you and your friends can have fun letting your imagination run wild while creating sweet masterpieces to take home with you.
Whether you're turning 7 or 77, our birthday parties are a great way to let your inner artist shine and enjoy some sweet treats too.
Contact us to book your party today!
Contact Information
---
Our gourmet cotton candy bar is like nothing you've ever seen before! With our easy 3-step ordering system, guests customize their creation for a fun-filled flavor experience each and every time. Now catering parties, events, sports, schools and community events or just for fun, Hyper House Sweets specializes in a unique and fun way to eat cotton candy. Developed and ran by kids and mom, rest assured, you've never had cotton candy like this before!
Contact Information
---
Action packed & fun filled parties that will have your kids FLIPPING out. The celebration includes 1 hour of gym time in our 18,000 sq ft facility and 45 minutes in one of our party rooms. Our instructors will lead the party with age-appropriate activities including an obstacle course, foam pit fun, trampoline/tumble tramps and more. This hassle-free party is sure to score a perfect 10 with your child!
Contact Information
---
Teppanyaki style dining experience unlike any other! Highly skilled and well-trained, your at-home personal chef will entertain you while cooking such favorites as steak, chicken, seafood and fresh vegetables in traditional Japanese style on a hibachi grill. Currently servicing La, Orange County and San Diego. Book now at 929.320.5023.
Contact Information
---
Looking for the perfect balloon garland or balloon backdrop for your next event? The PopUp OC has you covered!
Decor, Party Supplies, Bounce House & Photo Booths
Contact Information
---
Up In Lights OC – Marquee Lights
Wander Luxe Photo Co – Photo Booth, Backdrops, Flower Walls
Whistle Stop – Stir Sticks, Cake Toppers, Signs and more
Pop Paper Party – Bounce House
Mesh Kids Co – Huge/custom soft play & ball pits
Kam Party Props – Marquee lights, Carts, Backdrops
Wow Party Rentals – Inflatables, Games, Tables
Magic Jump Party Rentals – Inflatables, Games, Tables
Lets Konfestti – Party Supplies, Decor, Tables settings
Pharaoh Photobooth
Soluna Events – White Bounce Houses
Always Kind Co – Photobooth, Food Carts
This post contains sponsored content