Supporting local small businesses and Moms is very important to us here at SouthOCMoms. Join us and support these amazing local DIY'ers, Crafters and Small Businesses this holiday season!
OC Holiday Guide
Contact Information
---
The Cookie Curator, a home bakery in Aliso Viejo, hosts decorated sugar cookie classes for adults and children—beginners to experts. Rebekah, the owner, creates and sells the most delicious cookies year-round. Her classes and pre-made sets make for the tastiest gifts. You can find classes, premade icing, cookie mix, and cutters in her online shop.
Contact Information
---
At WhistleStop Shop OC, we offer unique and custom pieces for your home, your business, and your events! We love to create custom pieces for our clients and hope to be able to create for you. Reach out to us for any of your home decor or event needs and let's work on a piece together. We are a husband and wife team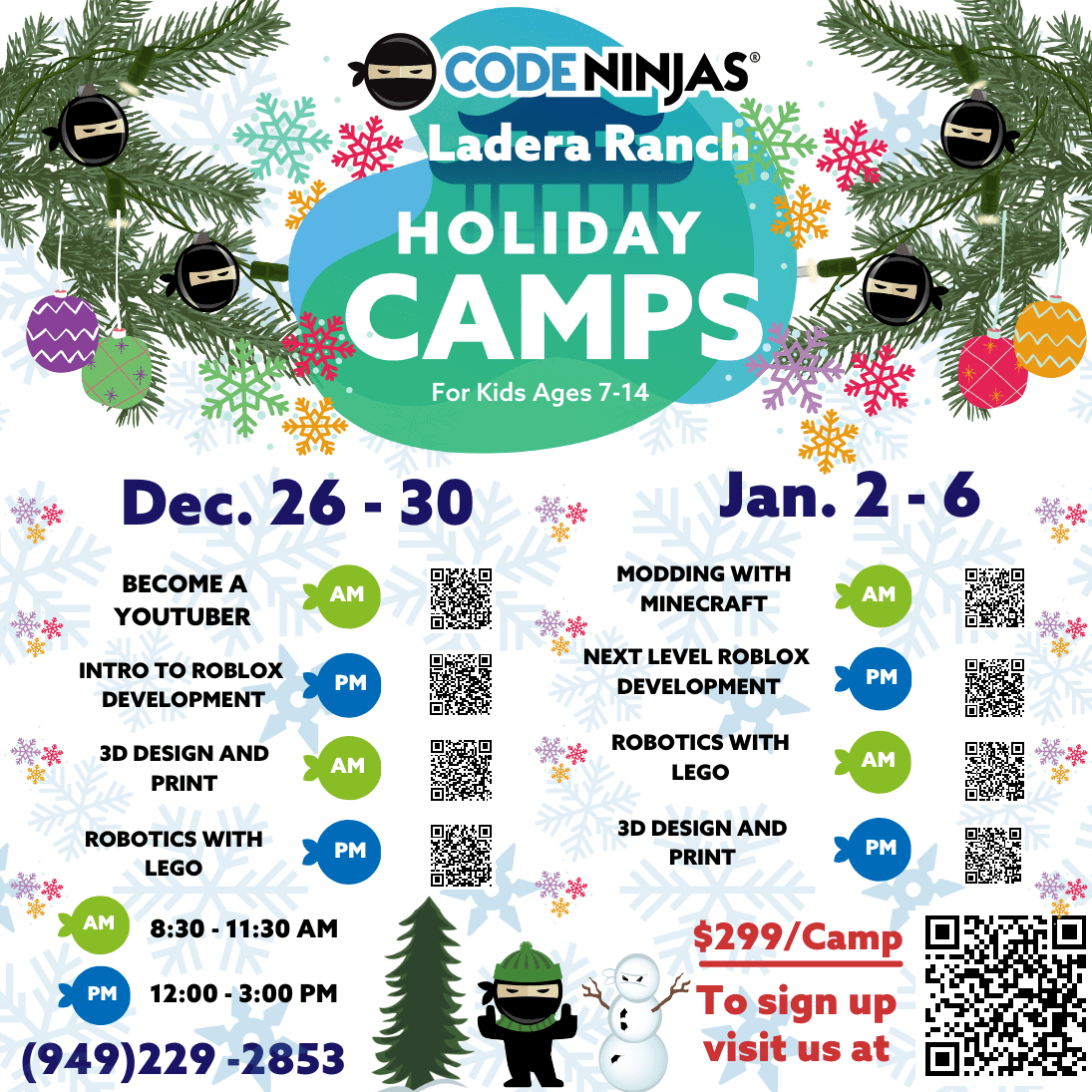 Contact Information
---
Transform your child's love for technology into an exciting learning adventure. Guided by our team of Code Senseis, Code Ninjas camps empower kids to gain valuable tech skill and make new friends. It's an unforgettable fun learning experience! Sign up today with our Spring Break and Summer camps!
Contact Information
---
My Milk Stone specializes in turning your breastmilk into quality keepsake jewelry to commemorate your breastfeeding journey! My Milk Stone also specializes in custom design jewelry. Anything you can think of, they can make it for you. Let's celebrate your sacred journey before it's over!
Contact Information
---
Shine Candle Co. is a luxury candle company that handcrafts all-natural coconut wax blend candles with exclusive clean-burning scents, silent wooden wicks, and a beautiful and timeless minimalist design. We keep you in mind when crafting our candles by offering beautiful and enjoyable products that also ensure your wellness. We carefully select the safest and highest quality ingredients not only because we value quality, but because we value your wellness as well. Each candle is beautifully gift wrapped in a white box with a silky black ribbon hand-tied around to finish.
Contact Information
---
Beach Genie covers your luxury beach day, cabana party and bonfire needs on permitted beaches throughout San Diego county.  Arrive to your beautiful beach event with nothing more than a swimsuit and a smile.  We provide everything needed for a terrific beach day from concierge quality chairs and umbrellas to beach towels and sand toys.  When you are done, you just leave and our staff tears down your event, ensuring the beach is left clean and the equipment gets used hundreds of times.  Let Beach Genie make your beach day wishes come true!
Contact Information
---
Salt & Rosemary is here to bake unforgettable desserts (& sometimes breakfasts) when you aren't able to. I make cupcakes, cookies, cakes with seasonal flavors & perfected recipes. Check out my website to see how I can help you celebrate this season, & take some of the baking off of your plate.
Contact Information
---
Crayon letters and shapes. Personalized names, phrases, full alphabet sets, shapes, and gift sets for interactive learning and coloring. Our company donates proceeds to a young, local OC family of 5 as the father, my brother, undergoes treatment for Stage 4 colon cancer. Your purchase means so much to us!
Contact Information
---
Say aloha to unique, purpose-driven gifts this holiday season! From our soft, luxurious, sand-resistant Turkish towels to our eco-friendly cups, totes, hats, and more, you are sure to find the perfect gift for everyone on your shopping list!  Visit us today at www.shakalove.eco and use code SOCMoms20 for 20% off of your entire order.
Contact Information
---
Box of Sensory Toys delivers unique toys or fidgets monthly or quarterly straight to your family's front door.  Our sensory toys support your child, tween or teen's mental focus, fine motor skills, social skills, language and writing skills, self-regulation and more. Develop new skills the fun way with Box of Sensory Toys!
USE PROMO CODE: OCMOMS30 for 30% off your order
Cali Vibes Candle Company
Contact Information
---
In January 2018, Anthony and Mariah decided to launch the Cali Vibes Candle Company. The name was a combination of their love for California and their good vibes only motto. Starting with pop up events and local boutiques, you can now find Cali Vibes Candles  at all major California airports and resorts across the state.
Contact Information
---
Hi, my name is Jessica and I am a mom of 2 and I own an online boutique called Sweetly Striped! I handpick the latest looks for my customers and create weekly collections that are both affordable and on trend. My online boutique is more than just clothes though, it's about helping women express their style and inspire them to feel confident and show up each day for themselves. 
Luminous Laser and Skin Spa
Contact Information
---
Luminous helps you enhance your true beauty and glow. We provide Laser hair removal, Laser Facials, IPL Facials, Fraxel Skin rejuvenation, Broken capillary and spider vein removal, skin tag, micro needlings, and much more! Take advantage of our Winter Specials Today!
Contact Information
---
Jedidiah Coffee is a husband and wife-run coffee company based in Laguna Beach. Steve and Embry have a passion for community, and believe coffee is the great connector of people. If they are not running their delicious coffee around various Orange County events, you can find them back at their Roasting Studio meticulously roasting over seven different coffees, including decaf, single origins, and a seasonal blend.
You can find their coffee in a handful of shops and restaurants, but their full stock is updated and loaded weekly for online ordering. They deliver and ship nationwide. Besides being Coffee Roasters, they have run a 5 Star Espresso Catering Service since 2017, setting up a full cafe on wheels for events of all shapes and sizes. The family's ultimate dream is to operate a family-friendly coffeehouse in Laguna Beach, and are currently in negotiations on a spot in North Laguna (be on the lookout)! 
If you or someone you know boasts about being a coffee lover or a "coffee snob", shop Jedidiah Coffee and not only will your mouth water for more, but their customer service is known to be just as enjoyable!
Contact Information
---
Gabb Wireless is equipping families with smart products that keep kids safe while still connecting them to friends and family. This results in freeing up time to experience the world in a positive way. Get the only smart phone that is smart to give your children.
Contact Information
---
Lisi's Bustin Nuts is gourmet, small-batch nut butter created in a cottage kitchen right here in Long Beach, CA. This small, woman-owned business is bustin' Salty, Sweet, and Candied Nuts every day. You can get pretty creative pairing the three flavors with fruit, bread, cookies, or almost anything… but a spoon is all you really need.
This post contains sponsored content