I have been dying to take my kids to the secret swing high atop the city of Laguna Niguel. All I want to do is enjoy these views and swing to my hearts content. Secret Swing Laguna Niguel
You won't find too much about this trail or swing online, so I have been asking all around about how to get to this lovely spot in Laguna Niguel. With 3 kids and two dogs, I like to know exactly what I am getting myself into before I set out on a hike. That way I can also prepare my children for what is in store. So lets get to it!!!
You can put this address 30241 Golden Lantern, Laguna Niguel into your phone maps and it will take you directly to a shopping center in Laguna Niguel; which is pictured above.
Across the street from the shopping center on Golden Lantern you will see the trail head sign for Colinas Bluff Trail. You can also type this into your phone as well, and it will show you where the trail head begins.
Once you arrive at the trail head for Colinas Bluff Trail, you will see the following gate. Go ahead and start heading up the hill. The majority of the 1 mile round trip hike is up hill. But there are plenty beautiful view spots to stop and drink some water and take a rest. Take it all in, the views are stunning.
Once you get to the top of the hill, your trail will fork off and you need to continue to the left. If you go to the right, you will start heading towards the ocean for some beautiful ocean views on the trail. But you will need to head left at the fork if you want to check out the secret swing. Heading left will take you further up the hill.
About 100 more yards and you are at the top of the bluff and the secret swing will be on your right hand side ready for a test drive.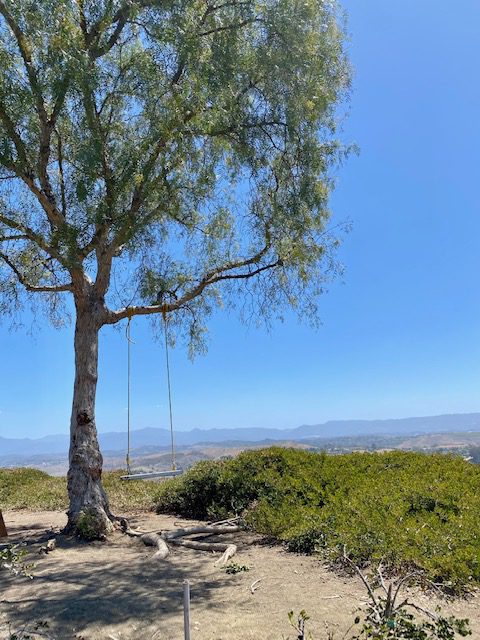 There is also a bench that you and the kids can take a rest at. You could even bring a picnic lunch with you to enjoy at this lovely spot over looking all of South Orange County. Our kids all took turns swinging on the swings. We gave our dogs water and watched as the mountain bikers flew off the bluff down the hills. You will certainly see some other hikers in the area. Once you all are done enjoying the secret swing, you can head back down the way you came, or head back to the fork and continue on towards the ocean.
Hope you enjoyed this article OC Moms! Tag us in your secret swing Laguna Niguel photos on Instagram and we will re-share them!
Hey OC Moms have you ever swam in a warm geothermal hot spring under the ground? Neither did I until we went to the Homestead Crater, while we were visiting Park City, Utah. Nestled in Heber Valley lies one of Utah's best kept secrets. The crater at the Homestead Resort in Midway, Utah is a geothermal hot spring that was created over 10,000 years as melting snow went deep into the earth and percolated u
pward from being heated by the earth's interior. As the warm water rose to the surface, it picked up minerals – eventually creating the beehive-shaped limestone deposit now called The Homestead Crater. With a depth of 65 feet and a 400-foot-wide base, there is a hole at the top of the dome that lets in sunlight and fresh air while the interior stays heated by the mineral water at a constant range of 90 – 96 degrees Fahrenheit. A tunnel was dug in 1996 just above water level so that people could experience this beautiful natural marvel. And beautiful it certainly is! Secret swings  orange county hikes