The last stop on our epic 12 day road trip was to El Capitan Canyon. It was our first time visiting and most certainly will not be our last time visiting this lovely nature retreat. Set right back from El Capitan State Beach, it is the perfect mixture of rustic glamping and beach side splendor. Perfectly located close to Santa Barbara and Solvang, for easy day time excursions. Read on to learn more about staying at El  Capitan Canyon and our offsite adventures we found nearby.
Where we stayed
El Capitan Canyon has really figured out the art of family glamping. They have cabins, yurts and safari tents available for you and your family. We stayed in a Canyon Bunk and it was perfect. We had two sets of twin bunk beds and a loft for two. The cabin comes with electricity, microwave, mini fridge, coffee maker, kitchen sink, running water and a bathroom with a shower. They also provide towels! So the only towels you will need are for the beach. Outside your cabin you will find a picnic table and a BBQ pit for cooking dinner and roasting marshmallows.
Market on Site
The market is equip with everything you will need if you brought nothing with you, or if you accidentally forgotten something. From good local wine, to a table cloth for your picnic table, the market has got your covered. They also have a great little to-go menu for breakfast, lunch and dinner. FYI, their breakfast burritos are out of this world. This is where you can order firewood for your campsite or s'more's for the evening. But my favorite offering are their Barbecue kits. You place your order at least 2 hours prior to when you want the food brought to your cabin. They have different meat kits to choose from and they all come in a lovely canvas bag with a salad, beans, water, utensils, condiments, firewood and of course a s'mores kit. We ordered kits both nights we were there and it was absolutely perfect. We cooked on our BBQ pit and the kids just loved it! Pro tip, bring some trash bags. You want to make sure that all your left over food is properly cleaned up and thrown away. We had multiple raccoons trying to get into our left overs.
Llama Hike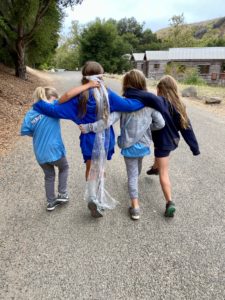 Right next to the onsite market you will find the trail head for the Llama hike. It isn't long but the first part is straight up. Follow the clearly marked trail to the llama farm. You will see llamas, sheep, goats and a donkey. You can feed them and pet them as well. My kids wanted to stay here for a while, they loved feeding the animals.
El Capitan State Beach
The beach is certainly in walking, driving or biking riding distance. We rode bikes the first time we went down to the beach, but then that means you can't take much with you. Note, we brought our own bikes with us on our road trip. There are adult cruises for first come first serve rentals from the El Capitan Canyon. It is a lovely bike right on the way down, a little tougher on the way back up the hill. The next day we drove down to the beach, so that we could take some chairs and towels with us. There beach is rather shallow and the waves are nice and small for children. Lots of drift wood on the beach to make forts or balance beams as my kids did. We even saw a pod of dolphins swim by while we were enjoying the beach. It wasn't too crowded either and very clean.
Off Site Excursions
OstrichLandUSA
Ok, so I wasn't so sure about this place before we went, but boy am I glad we did. I made online reservations on my phone and hour before our arrival. Due to COVID they are limiting the number of guests, so I also suggest making a reservation. You will need to keep a mask on both you and your child as well, while you are visiting. When we showed up they gave us these large plastic bowls filled with food and pointed us towards the ostriches. My kids and I could not stop squalling with excitement. They quickly peck down and take the food from the bowls. They are odd and unusual animals to say the least. My kids LOVED this activity and would have stated here all day if I would have let them.
Solvang
This town is really one of my all-time favorite places to take my children. I used to come here as a kid, so I love sharing this special town with them. Some of the roads are currently closed down and all the restaurants and wine shops have tables outside. We walked around and looked at all the windmills, grabbed some grub at the Copenhagen Sausage Garden, found a cool Lego room at The Copenhagen House and sipped a glass of wine at Lucas & Lewellen Vineyards. Last but not least we crammed the kids into the clog for a photo, before we headed back to El Capitan Canyon.
EL CAPITAN CANYON
11560 Calle Real
Santa Barbara, CA 93117
Ostrichland USA
610 E Hwy 246
Solvang, CA 93463
Copenhagen Sausage Garden
1660 Copenhagen Dr.
Solvang, CA 93463
The Copenhagen House
1660 Copenhagen Dr.
Solvang, CA 93463
Lucas & Lewellen Vineyards
1645 Copenhagen Dr.
Solvang, CA 93463