The moment we pulled onto Hwy 1 and saw those dramatic cliffs diving into the ocean, I knew Big Sur was going to be a highlight of our road trip. There were so many amazing spots to turn off and snap yet another stunning photo. I can't wait to share with you all of our favorite hikes, waterfalls and beaches of Big Sur.
Big Sur Recap
Things to remember right off the bat to ensure you have just as much fun as we did. There is NO WIFI in Big Sur. Just know this going into it, you will be cut off from the social media world that is your Wifi. But that also means you can remain 100% focused and engaged with your amazing family. But that also means that you need to do all your research or save this blog post somewhere on your phone prior to arriving in Big Sur. Thankfully I had screen shots of everything stored on my phone. Last but not least, ensure you have your sun screen, bug repellent, swim suits and hiking shoes. Note, in a COVID era of traveling I HIGHLY suggest going to the must see destinations first thing in the morning. Most locations have limits on the number of people they are allowing into the area at a time. We luckily got into every place we wanted to see, but one beach we had to return multiple times to finally get in and we were the last car let into Limeklin State Park at 8:30am in the morning.
Where We Stayed
We got to stay at the iconic Big Sur Lodge. This was very special to me, because I stayed here as a kid with my family. Probably the reason I wanted to come back, because I have such fond memories of this place. Currently the market is open and the restaurant has a limited menu for outdoor dining or pickup. There are some local delis and a couple outdoor restaurants nearby, but everything was packed with people and they were running low on supplies. We got sandwiches a couple days, to eat while we were out on our daily adventures. The rooms have fireplaces inside where you can roast your own s'mores. The Lodge will drop off firewood to your room for your convenience. Lastly, the pool is currently open and warm. There was no one using it while we were there and our kids got to enjoy the pool in the evenings. My other favorite thing about staying here is you automatically get free parking at Andrew Molera State Park, Big Sur State Park and Julia Pfeiffer State Park.
Hike Time
I have put these hikes in order from driving north up the coast from LA towards Big Sur for your convenience. Again, make sure you have these trails mapped on your phone prior to getting into the area.
Salmon Creek Trail(Waterfall Hike)
You will see the cars lining the side of the road and a small trail head displaying Salmon Creek Trail. A mere .3 round trip out and back trail, with a stunning 180 foot waterfall at the end. A perfect swimming hole can be found here, so make sure to have your swim suits ready! Note there is one tricky part where you climb along on a log while holding onto a somewhat stable pipe. But it is the only way to get up to the actual swimming hole. Totally worth it and a completely amazing waterfall.
Limekiln State Park
This park is really limiting the number of cars they are letting into this area. Lucky for us, we were the last car to get in the morning we went at 8:30am. So try and get here early or you might have to wait for someone else to leave. There are two whimsical trails here for you and your family to enjoy. The first hike will take you to the old lime kilns from the late 1800s. They are very interesting to look at and make you feel like fairies or gnomes are going to come strolling out at any minute. The second trail will take you to Limekiln falls. Another beautiful 100 foot waterfall to check out. This is not a swimming hole type of waterfall, but still stunning none the less. After you check out the trails, head back towards the park entrance and you can go check out their beach cove.
McWay Falls
Well of course you have to stop and check out McWay Falls. Be sure to check out the government site before visiting this trail. As of Memorial Day 2021 the trail is closed to asses damage to the trail. The site does not state when it will reopen at this time. But you can always see this stunning view of the waterfall from the pullout just north of the park entrance near mile marker 36.
Partington Cove
This is a mile round trip hike down to the ocean and completely up hill on the way back. I still think it is worth it, but if you have bad knees this is not the trail for you. You will come to a fork on the trail, both of which you will want to explore. If you take the trail to the right it will lead you down to a rocky beach cove to check out. The trail to the left will take you to this cool old 60 foot tunnel. When you come out of the dark tunnel you will see a secluded cove. Follow the trail out to the end and enjoy the lovely view from a nice bench. This cove is rumored to have been a favorite landing point for smuggling liquor during the prohibition.
Pfeiffer Big Sur State Park
OK, so this is the one place that was VERY difficult to get into. We picked up sandwiches and wanted to come here for a family sunset picnic on the beach. We first tried to get in at 4:30pm, but they were still at capacity. They finally let us in at 5pm, which was still fine, just more unfortunate COVID restrictions. Parking is close to the beach and it is a wide expansive beach. This is the beach where you see all of those famous key hole rock photos. Make sure you get your photo too! The other super special thing about this beach is the Purple Sand. Yes, Purple Sand! I didn't see it at first and was a little bummed. Then all of a sudden I happened to move my foot across the sand and low and behold, the sand right under my food was indeed PURPLE. It is really cool once you find it and so very unique. Something I have never seen before.
Valley View Trail
An easy 2 mile roundtrip hike that starts right from the Big Sur Lodge with a pretty steady incline and lots of shade. Once you make your way to the top there is a beautiful view of Point Sur and the Big Sur Valley.
Gorge Trail
So this trail is listed as "1 mile into a steep narrow gorge with huge granite rocks and swimming holes." There are definitely amazing swimming holes if you can make it all the way up the river. But the path ends pretty quickly and then you are on your own trying to traverse back and forth up the river, over boulders and fallen trees. It was not easy to get to the swimming hole and in fact, I didn't even make it. My kids and husband did, I just wasn't prepared to get waist deep in the river. I was able to see them in the swimming hole from a high boulder a little ways back. There were a TON of young people at the swimming hole with music and jumping off the rocks and enjoying the rope swing. My kids loved it, but they did say it was pretty cold. Then we had to traverse our way back out of the gorge. I wouldn't take small children on this trail.
Pfeiffer Falls Trail
This trail is still closed due to construction.
Point Lobos Nature Reserve
Wow is this one stunning place. Not that they aren't all stunning, but I would have love to have spent more time here. We we only had a couple hours, but could have spent the whole day checking out every trail within this nature reserve. You have to get their EARLY to get parking inside the reserve or late in the day. We parked outside the gates along the main road, as do most folks. When you do this, it is free to enter the reserve. It is $10 to park within Point Lobos Nature Reserve. For our short 2 hour stay within the reserve we headed to the left/South toward Lace Lichen Trail to the Mound Meadow Trail, which drops you off on the Coastal Trail. Head inland on the Coastal Trail and you will get to check out Hidden Beach, China Cove, Pelican Point and Bird Island. All stunning outlook spots and the kids will love them. We were lucky enough to see a bunch of sealions taking a nap in China Cove.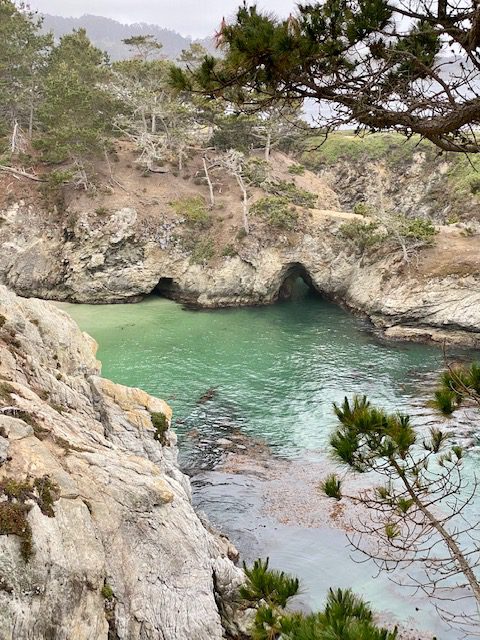 Andrew Molera State Park
This place was PACKED! We skipped going here during the day due to the sheer amount of people at this beach. We opted instead for another sunset beach stroll. Note, the parking lot is not close to the beach. It is about a 1.8 flat mile walk from the parking lot through Creamery Meadow to the actual beach. The beach is long and shallow. There is driftwood everywhere, which makes for building fun forts and stick castles.
Remember to take time and plan out these stops on a map. Try to get there early in the morning or late in the afternoon. There are also very few gas stations, so make sure to fill up when you can. Ensure you have your camping or lodging reserved as everything was booked when we were there and that is still during COVID times. Have the best time and let me know if you have any questions or want to add any more amazing stops to my list!