Pack up the kiddos and head over to Adventure Lagoon in Anaheim. to enjoy a 14 acre aqua park.  It is a great way for the whole family, including Mom to spend the day.  Parking is easy and food trucks are on location; just remember your sunscreen and underwater phone case.
My favorite part of this place is that the water is a perfect 78 degree year round. Seriously the water temperature is absolutely perfect! Makes swimming enjoyable and fun, even when you aren't partaking on the obstacle course. The water is also crystal clear, they pump 30,000 gallons of clean drinking water into the lagoon every minute. You heard me right, EVERY MINUTE! Every 14 hours the lagoon complete regenerates itself with clean water. There are no fish or dirty oils in the lagoon. Your skin feels great when you come out of the water.
No matter the age of the participant life jackets are required and life guards are on duty the entire time. They provide life jackets for the whole family, but you can certainly wear your own as well. I suggest purchasing your tickets online as well as completing the electronic waiver, it will make for a smoother check in experience.
General admission for kids 6 and up is $30.00 for day use of the lagoon, chairs, and access to the kids swim area. This admission does not come with access to the aqua park obstacle course. Kids under 2 are free and kids under 5 are only $5.00. The premium admission for $40.00 comes with day use of the lagoon, chairs,  access to the kids swim area and 1 hour on the aqua park obstacle course. You can even add on an additional hour on the course for $10 more dollars.  This is something you can add on while you are at the lagoon, if your family begs you for more water time. They also have paddleboards, kayaks and inflatable tubes for hourly rentals. The park is open from 10:30am to 6pm, with the parking lot closing at 5:30pm.
For the younger kids they have a great kids area sectioned off with these little boats the kids can play on, a submarine with a slide and little fish with a slide. To use the obstacle course you must be 6 years of age or older and minimum 48" in height. The Adventure Lagoon, really is perfect for all ages.
You can also host your child's birthday party at Adventure Lagoon. They have a special section with huge umbrellas for the entire birthday group. You can even rent a floating cabana like the one pictured below to enjoy your pizza on.
The Birthday Packages include:
All-day access to the water park

(1 – hour 45 minute) fully covered party section

2 picnic tables and benches

An assortment of beach chairs

(1 – hour) obstacle course for all of your guests

1 Super King 28" pizza (It's H U G E) – cheese or pepperoni

12 pack of 20 oz. drinks (sodas, Gatorade, or water)
.
It will certainly be a birthday party your child will not forget. Email [email protected] for more information about booking a birthday party.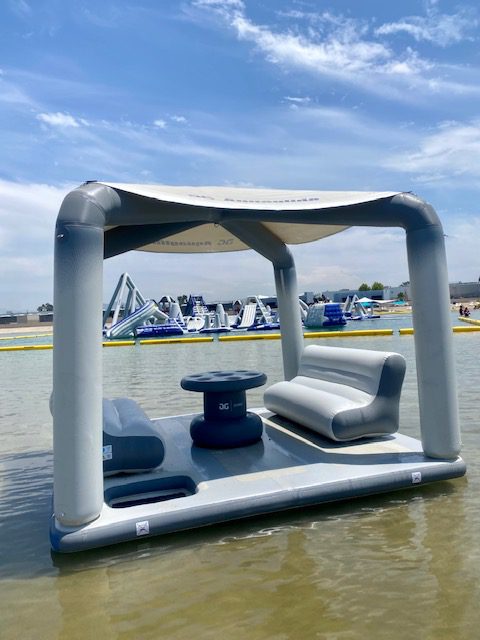 Start making memories with your family at Adventure Lagoon today. Click here to purchase your tickets.